I'm so excited to share a guest post from
my friend Dori
today! I met Dori when I lived in Miami (Twitter brought us together, actually!) and we've stayed in touch through a few years of travel and lots and lots of books checked off of each of our reading lists!
When she
sent me a photo
of the incredible Christmas tree that her partner built for her, I just about died! It's a book lover's dream and I immediately asked her to do a post on how it came about so that you can all bask in its amazingness as well!
Now, here's Dori!
--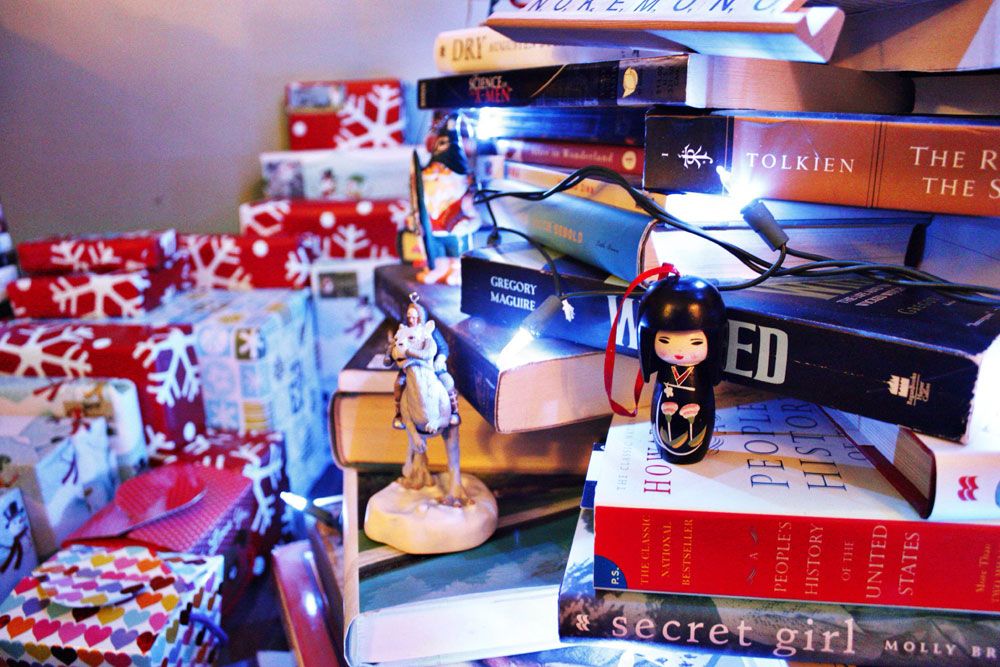 "I want to do something...
different
," my boyfriend, Joey, told me when I asked him on Black Friday when we would pick up a tree. "And I don't want to tell you what it is."
I didn't badger him about it following my Black Friday inquiry. But when I came home from work the next Friday, there it was: all my books stacked up in the shape of a tree. He was still at work, I couldn't even hug him to show my appreciation, but when I called, he could hear the excitement in my voice. He knew I loved it.
He admitted a friend of his showed him the book tree, which sparked his interest in building me one (although I'm sure I have showed him one or two in the past!). He searched for a bit and wasn't surprised when he saw it had been done a few times before but admitted to me after, "some I saw were good. Some were...not."
He started out by building a triangular cardboard base, then finding books the same height to go around in rows to be even, slowly moving up until he finished. He said it took about 90 minutes from start to finish.
Thankfully, we got to decorate it together. Our ornaments that have been collected over the years still needed a home. While many of them stood on their own wherever they we're placed, some were used to hanging on a Christmas tree. If they were small enough, they could fit in between pages. Some we hung from the light fixture above. A few didn't make it, but we can't say we didn't try!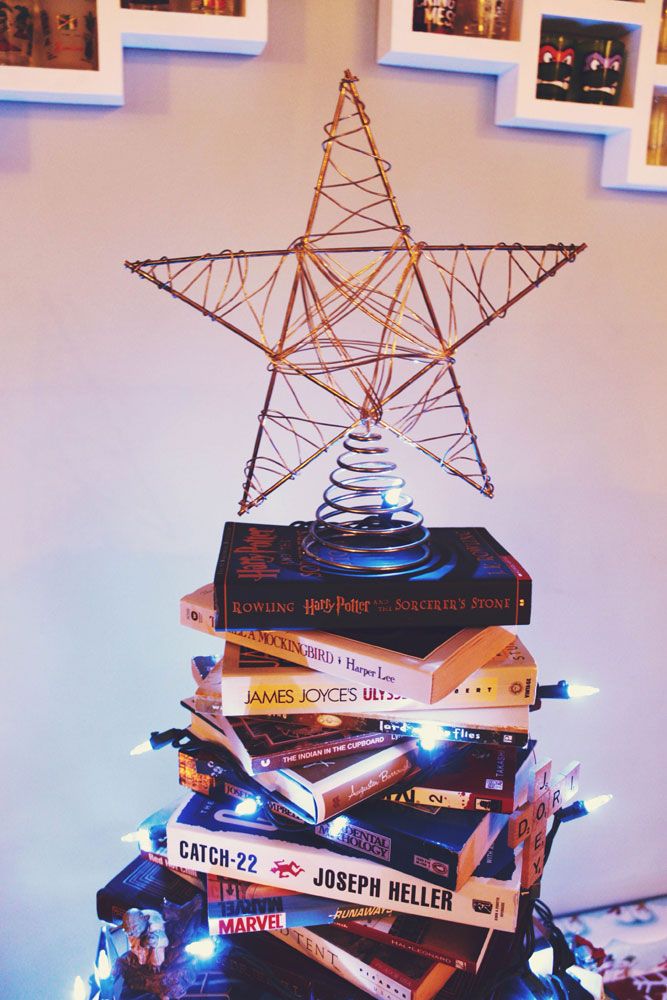 The amount of thought and detail he put in is much more than I had originally given him credit for. I look over the titles and many of my favorites stand out at random. Maybe I just don't notice them enough when they are on shelves next to their peers that look just like them. Maybe they got lost in the mix. But here, in the creation of a tree, I see schoolbooks I couldn't part with because they remind me of how much I loved the classes (Italian, Women's Studies). I see books that I read years ago, but looking at them reminds me of the time and place I was in when I read them (
Dry
,
Wicked
). Some remind me of where I was when I got them (I found
The Lovely Bones
for $1 at my Grandma's library, I bought Ernest Hemingway when I took a tour of his Key West home in 2009).
Harry Potter
, of course, sits atop the pile. It's a collection we both adore.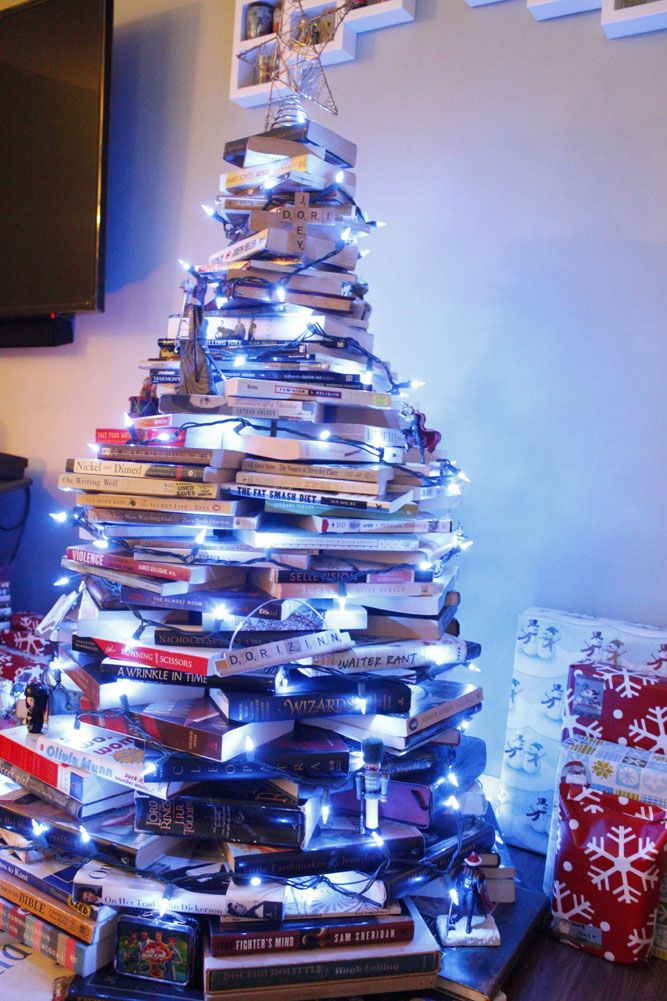 Some I haven't gotten to yet, and I think that's a struggle with a lot of people who love reading and just have too many other life things that get in the way. But those books remind me I won't ever be bored.
Maybe next year the real tree will come back, but at least I won't ruin the surprise when my boyfriend tells me he wants to
do something different
.
Dori is the Associate Editor of Bundoo.com and a freelance journalist. You can follow her on Instagram and Twitter. Dori is also the best and I cannot thank her enough for sharing her tree with us!
Happy Wednesday!