(jacket // max studio. sweater // cotton on. dress // cotton on. belt // guess. boots // hunter.)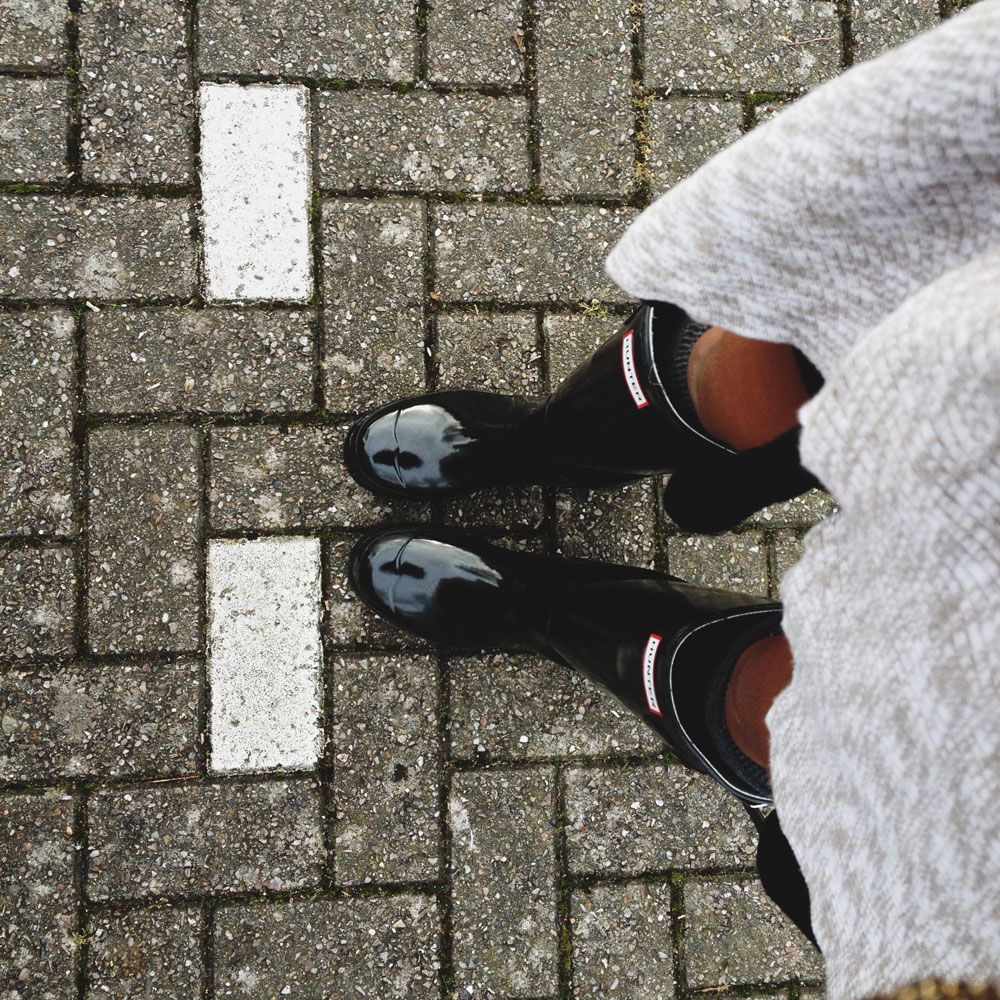 Okay, I wore this on Saturday. You caught me! But, let me tell you what drama it was to get these damn boots.
When my sister joined me and the family in Florida for Christmas, she mentioned that she practically had to
swim
to Heathrow because it had been raining so much in England.
Now, I have
boots that I love
, but I don't really want to traipse through puddles in them because that will totally ruin them. I knew I needed rain boots and have been putting the entire thing off in the hopes that if I don't have a pair it just
won't rain in England
.
I think that's pretty much the definition of "wishful thinking".
Anyway, rain boots. In Florida. Simple enough, right?
Well, stores #1-4 don't have any.
Store #5 (Bloomingdale's)
does
, but the only ones I see on display are Burberry. They're cute as all get out, but pardon me if I don't really want to drop $295 on boots that I'm generally only going to wear when it's gross out and the rest of my outfit consists of a sweatpants/sweatshirt combo. (Dead sexy, I know.)
The rest plays out as follows:
Me (to salesclerk):
Hi! Do you carry any other rain boots?
Clerk:
We don't have rainboots, sorry!
Me:
What about...the ones...I'm holding in my hand?
Clerk:
Oh. We have those.
Me:
...no other ones?
Clerk:
No.
Me:
Hunters, by chance? Those are pretty common, right?
Clerk:
Oh, yes. We have Hunters.
Me:
Ok?
Clerk:
But we only have them in black.
Me:
That's great!
Clerk:
And they're shiny.
Me:
Even better. I like shiny things.
Clerk:
And we only have them in size 7.
Me:
That's my size! Awesome!
Clerk (bewildered that I would want to try on a pair of boots in the size and color that I was looking for):
Oh...okay. I'll go get them for you...
Seriously, why was that so hard? After I slipped my feet into them (snug as a bug!) and it was clear that I was going to buy them (even if he didn't want me to, which is what it felt like) he went into super-high gear and tried to sell me Hunter-brand socks.
Socks. This is what he tries to get commission on, not the, ahem, BOOTS.
Okay.
I bought them before he could try to talk me out of the purchase and have been happily splashing away in puddles in cold and rainy England since I got back.
Note to sales clerks: Let the people buy what they want. And, um, try to be helpful.
Sheesh.
I used to work in retail, and even on bad days I really can't remember being so decidedly unhelpful, but eh. I guess we all have our different strengths?
Happy Thursday!
--
twitter // pinterest // instagram // bloglovin' // email