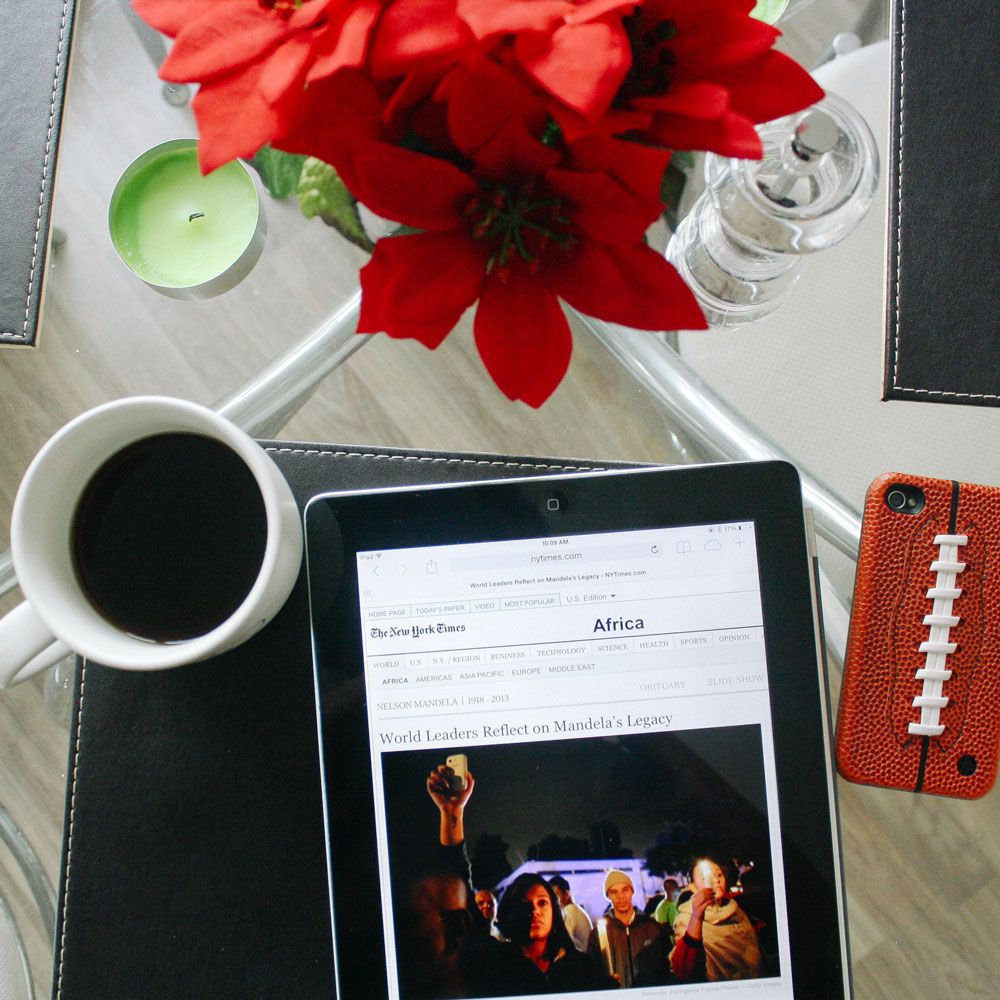 Happy Friday, guys! Just like that, the first week of December is gone and we're heading full-speed into the end of the year festivities. Last night, the guys
voluntarily
put on Christmas music, which just...never happens. I cannot even tell you the dirty looks I got when I tried to pull out the holiday albums a few weeks ago.
Most of my holiday shopping is done
(praise)
and I just have a few packages to mail before I can sit back and not think about wrapping anything until next December. Woo!
I'll break the links up again this week as there are quite a few! Dig in!
+
As most of you know,
Nelson Mandela died yesterday
. Even though the news was expected, it was sad and sobering news.
+
This
timeline of Mandela's life
paints a full picture of his incredible journey.
+
Last one from the NYT, "
Our nation has lost its greatest son
." On how Mandela's death has left South Africa without its moral center.
+
"
Mandela will never, ever be your minstrel
."
+
The Universe
has weird timing
.
+
Reading through
the reactions
to Mandela's death was really moving. Except for that last section because some people suck.
+
Tata
.
+
Lastly, to end this section with a bit of light,
this
was pretty much
exactly
the look I had on my face when I met Idris Elba. And then I hugged him without asking and he was nice enough to not have me arrested...
"It is a struggle for the right to live. During my lifetime I have dedicated myself to this struggle of the African people. I have fought against white domination, and I have fought against black domination. I have cherished the ideal of a democratic and free society in which all persons live together in harmony and with equal opportunities. It is an ideal which I hope to live for and to achieve. But if needs be, it is an ideal for which I am prepared to die." - Nelson Mandela
+
In defense of liking books
. Tackling the question,
"...does liking vastly more books than you didn't like make you a less discerning reader?"
+
Oh, I really want to read
this
.
+
11 ways to up your writing
.
+
Okay, on reading, writing, and
eating
,
plum pudding from A Christmas Carol
.
+
Gilmore Girls:
Where are they now
? Oh my god, Kelly Bishop on
Coven
would be the best thing to ever happen to TV! *faints*
+
This
is strangely mesmerizing.
+
We saw the previews for
this
when we went to see
Catching Fire
-- which was
everything
-- and it looked really good! I had fun spotting people in the trailer (Jennifer Lawrence! Tyrion Lannister!) and having Ryan look at me like I was crazy because he missed them.
+
KANYE WEST
SIT DOWN
YOU ARE MAKING IT SO HARD FOR ME TO DEFEND YOU BECAUSE I KNOW YOU'VE BEEN THROUGH A LOT AND YOU'RE KIND OF BRILLIANT WHEN YOU'RE NOT BEING WHACKADOODLE. Don't get me started on that crazypants music video with you and Kim. That was not good. At all.
+
After the very sad news of Paul Walker's passing (
Side note: I also met Walker. He shook my hand and I seriously contemplated not washing it for a month. Like Elba, he was impossibly good looking and kind in real life.
), this line in a very old review of
Fast Five
made me chuckle: "
There were blacks, Asians of all kinds, Mexicans, Michelle Rodriguez, and whatever Vin Diesel and Jordana Brewster are
."
+
Love
these DIY decorative letters
from Cat.
+
Check out the comments on
this post
for some Excel tips + tricks!
+
Try out
thousands of webfonts for free
. This is amazing.
+
Make/Work
, a new podcast from The Rumpus.
+
This bread looks so good
, I think I'm going to make it next week!
+
And maybe also
this
!
+
DIY: Wrapping paper they won't throw away
.
+
Someone help me figure out what's going on in
this video
. Because I can't stop watching it. Halp!
+
So damn CUTE
I cannot even stand it!
+
How to
vaguebook
.
+
This
is also super cute. Puns!
+
The
44 worst people in every restaurant
.
+
I thought
this
was a really interesting read on a Lululemon brand ambassador ending her relationship with the company.
+
A US expat describes the best and worst things about living in England
. Presented without comment.
+
The
Black Feminism Syllabus
via Melissa Harris-Perry, who is my pretend BFF.
+
"
My concerns re: Amazon
."
+
And, if you're not familiar with D.A.,
you should be
. And since today seems to be the day where I talk about famous people I've met, D.A. is the reason that I got to dance on stage with Pharrell (in my wilder days) and for that, I will always be grateful. ;)
+
And, my
favorite Instagram of the week
via
@mboyet
. I miss Florida!
I don't know if I'll do this every week, but I tend to listen to a lot of old, very cheesy music while I work. Sometimes, I get so overwhelmed with nostalgia that I search out the music videos and watch them 10 times in a row. I figure...share the love, right? Here's my favorite this week:
Happy Friday, Happy Weekend!